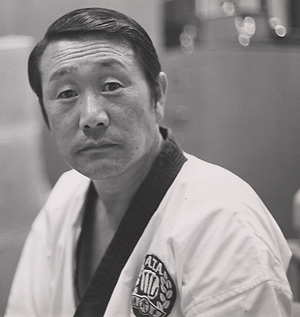 Kim Ki Whang, also known as Grandmaster Ki Whang Kim, was born in Seoul, South Korea in 1920. He was the son of a wealthy shipping magnate. In his youth, Grandmaster was often harassed by his peers due to his family's financial status. This led him, at an early age, to become obsessed with learning self defense.
While in his teens, Grandmaster Kim relocated to Japan, where he studied Judo and attained the rank of black belt. While studying at the Nihon University in Japan, Grandmaster began studying Shudokan Karate under the instruction of Master Toyama Kanken. During his years in Japan, Grandmaster became close friends with fellow countryman, Grandmaster Yoon Byung In, who greatly influenced his technical development. Upon graduation, Grandmaster traveled to China where he studied Kenpo, and Shaolin Kung Fu.
In 1964, Grandmaster Kim emigrated to the United States, where he opened his first series of Korean Karate schools in Silver Spring, Maryland, and at the YMCA in Washington, D.C. Originally, Grandmaster was affiliated with the Tang Soo Do, Moo Duk Kwan Association, serving as its ambassador in the United States. During his career, Grandmaster Kim devoted much of his energy toward unifying several Korean Kwans, or schools, under a single new banner, Tae Kwon Do.
Grandmaster Kim was an exceptional tournament supporter and promoter, and he believed that open competition was only a small part of being a martial artist. He emphasized the cerebral aspects of karate-do, the development of good moral character through disciplined, strenuous training, all of which led to a well-rounded individual who is better able to live a productive life.
In addition to black belts in Aikido, Judo and Tae Kwon Do, Grandmaster Kim held an 8th Dan in Tang Soo Do, Moo Duk Kwan and was ultimately promoted to 9th Dan in 1971 by the Korean Tae Kwon Do Association. He was inducted into the Black Belt Hall of Fame in 1979. In that same year, he was selected as the Black Belt Hall of Fame Co-Instructor of the Year. In 1993, while hospitalized with a terminal illness, Grandmaster Kim received his 10th Dan from the Korean Tae Kwon Do Association, as a symbol of his lifelong dedication to martial arts and to Tae Kwon Do. He passed away on September 16, 1993.